Congratulations! You've been approved to provide NDIS services. Your next step is to provide support items/services counted against your clients' budget. A client's budget for certain services will be determined by the support category they fall under and their budget allocation for said category.
It's like applying for apples, getting oranges, and then paying for it using pears. No wonder we're all going bananas!
Allow us to explain how you can manage your NDIS services without the confusion.
Sorting out your services is like ordering off a menu. Your main support purpose/budget consist of sections such as entree, main course, and dessert. Within each section you have support categories grouping certain services together; like vegetarian and seafood options. Within each subcategory is the actual service. In other words, the chicken parmi you order from the menus' main course chicken section.
Bear in mind that the NDIS budget is allocated by support purpose, meaning that if you're allocated a certain amount for 'main courses' they can't be spent on 'dessert'.
The registration group you originally chose on your application covers your broad skills. To use our restaurant analogy, it's like a chef at a restaurant who is skilled in Thai cooking. This means they can prepare everything from Thai entrees to Thai desserts.
Now that you have a better understanding of the NDIS categories, it's time to see how our system helps you get the show on the road:
Using Comm.care to generate service invoices
Essentially you will need to list all the individual support items that make up what you offer, and loosely group them by category and registration group within Comm.care. To do this first locate the NDIS price guide for your location, and use it to group your approved services by support category so that clients can map your services to their budget. When choosing your naming conventions, make them simple and self explanatory, referencing the appropriate category to ensure your invoices list your services clearly for clients. Grouping items by support category ensures that your clients can choose their services knowing that they are within budget: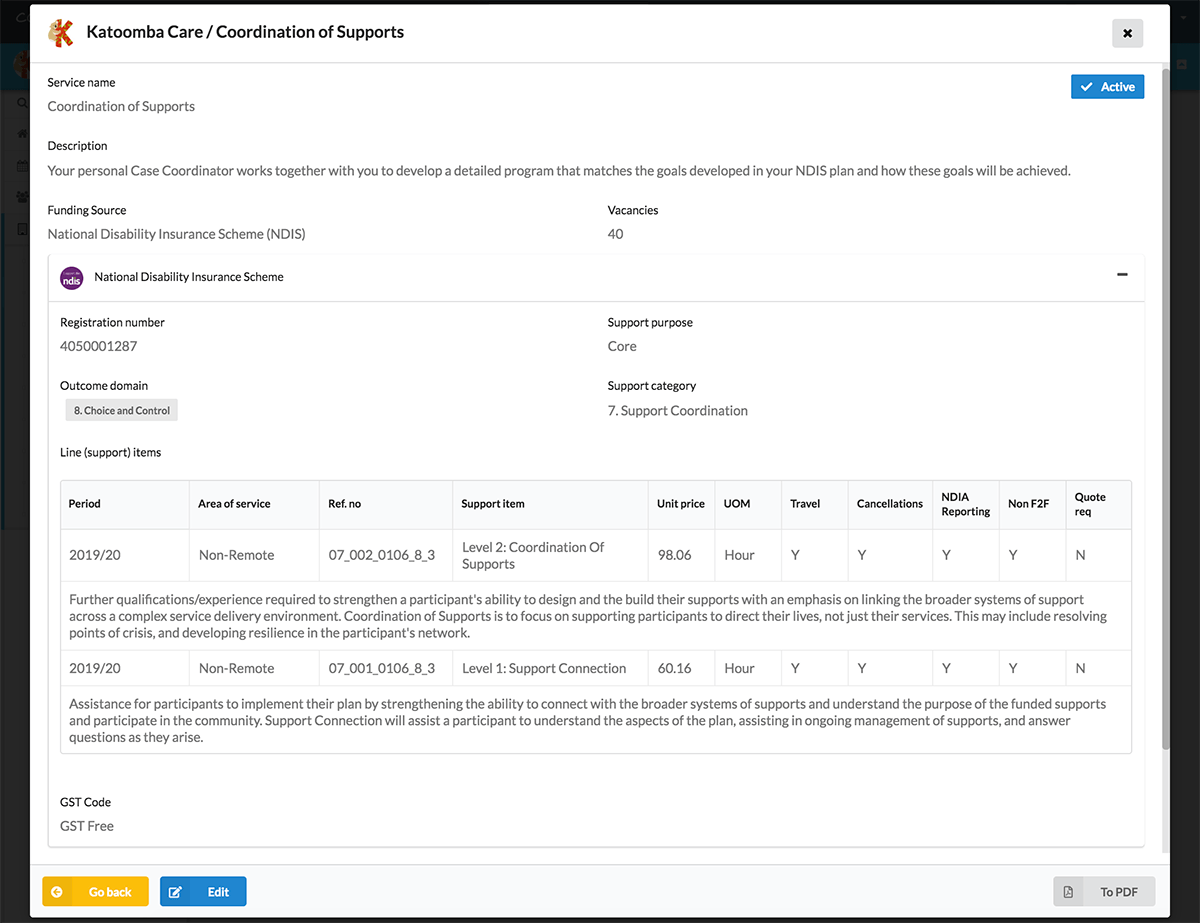 Read more about how to add NDIS services to your organization on Comm.care. You might need to make changes in the future, but by starting on a strong footing you'll be able to communicate with clients and reduce your admin when it comes to NDIS Bulk uploads and invoicing.
To find out more about our client management system, contact us today by sending us an email on team@comm.care.