For service providers in healthcare and working with NDIS, DSS, HCP, etc, there is a tonne of administration and paperwork that needs to be done in order to get paid.
In this article, we will help you work out how claims are done for NDIS providers, what types of documentation are required, and how Comm.care streamlines your claims and payment process for NDIS - NDIA Managed services.
Understand how to get paid with NDIA-managed clients
For NDIA-managed Clients (or Agency-managed Clients), the best practice is to first send a statement (like an invoice) to the participant detailing the services provided. It's good practice to wait a few days after sending the statement, so the participant can raise any concerns or issues before the claim is submitted to PRODA for payment and the funding withdrawn from the participant's budget. This payment request is in the form of a Bulk upload file that details the support provided (as evidence of support delivery when requested) through the NDIS Myplace provider portal, to receive payment for services. Your payment requests have to be submitted within 90 days from the end of the service booking.
To get paid, you will need the following information to claim:
participant name
participant reference number or NDIS number
dates of support
support item reference number
support item price
Documentation of your support

approved service agreement containing the schedule, cost, quantity, type and quality of supports to be delivered and their location; as well as the expected outcomes for the participant
approved quotes as appropriate
evidence of support quantity
evidence of support type
staff roster
final report or assessment
Depending on the nature of your support service, additional documentation guidelines may apply and be requested as part of the Provider Payment Assurance Program. Tonnes of information and paperwork for your team to manage! Let's see how to do all of this, with just a few clicks, on Comm.care:
Claim Process for NDIA-managed clients on Comm.care
Before claiming, please make sure all the support delivery is documented. See detailed tutorial about how to quickly lookup undocumented appointments from Organisation Calendar. Now let's see how the claim process is done on Comm.care.
Go to Organisation > Reports.

You can select the Occurrence Date. It is best to create a report every 2 weeks or monthly.
Select Roadmap Type: NDIS - NDIA Managed


On Filter Progress Notes by purpose select 1.1 Create Claim.
Click on the blue button: Generate report, and the application will list all the unclaimed Progress Notes.
Click on the button Action and select Create Statements; the application will create the statements for each Participant based on the listed Progress Notes.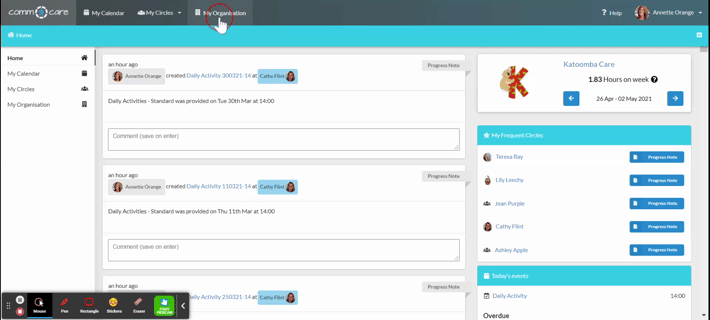 The generated report will list all the details from the Progress notes, which will include: Circle's name, Service and its status, time of delivery, support item and type of service (direct service or provider travel), total time of service and unit price.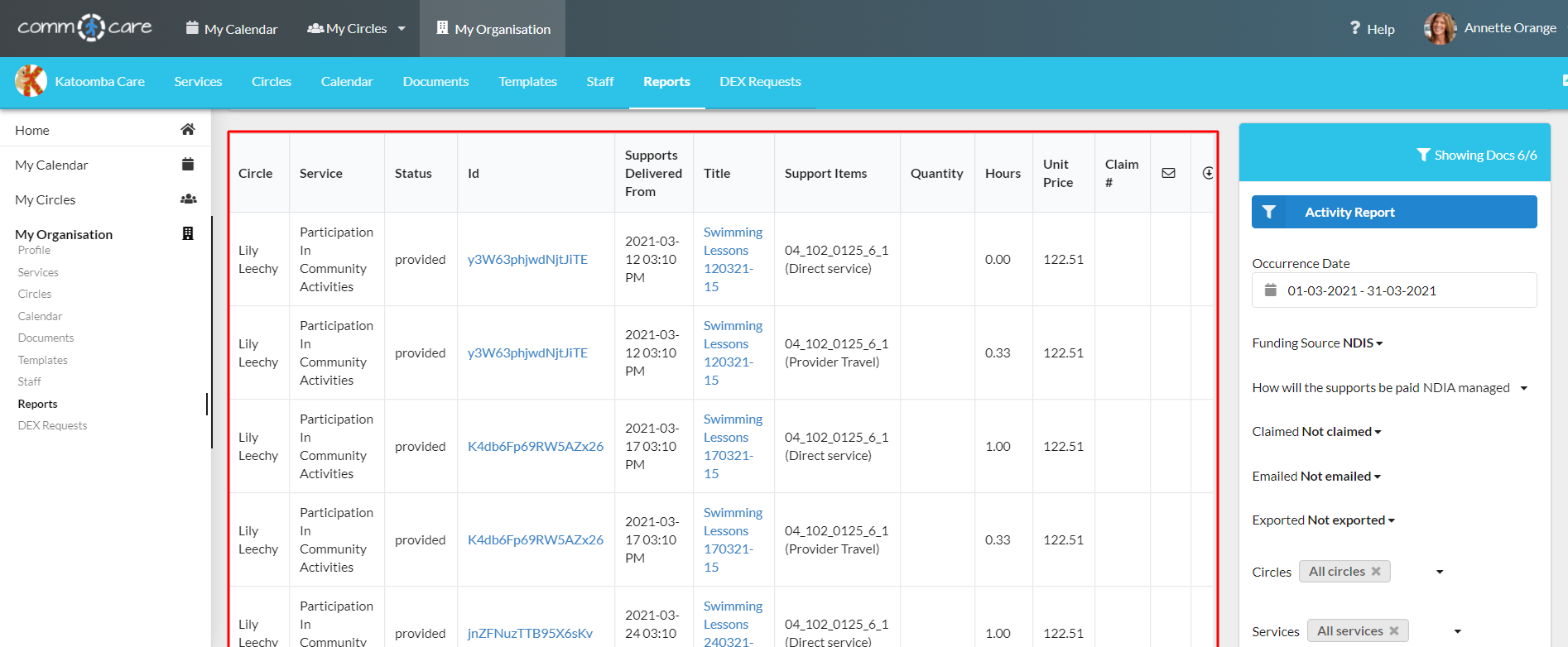 Send Participant statements via Email:
On Filter Progress Notes by purpose select 1.2 Send Email.
Click on the blue button: Generate report. The application will list all the unsent NDIS claims with Progress Notes delivered between the Occurrence date filter.
Click on the button Action and click on Email Statements to Participants. The application will send the statements to each participant according to the configured Recipient on the Circle's Roadmap. It is best to send the statements for their perusal before claiming to PRODA.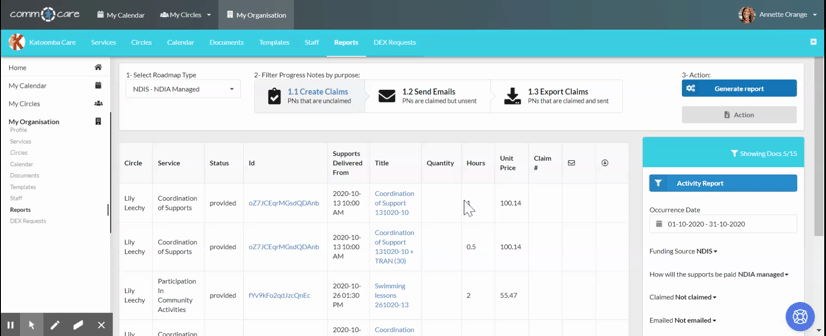 Export Claims as NDIS Bulk Claim
On Filter Progress Notes by purpose select 1.3 Export Claims.
Click on the blue button: Generate report. The application will list all the NDIS claimed, sent and unexported Progress Notes.
Click on the button Action and click on Export as NDIS Bulk Claim. Download the CSV file that contains data in NDIS bulk claim format and upload it to the NDIS portal.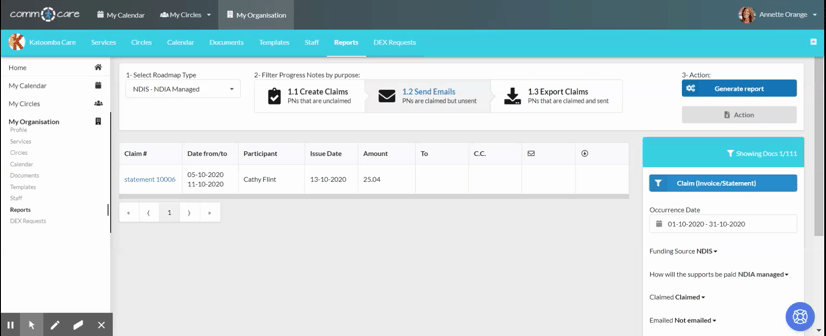 Note that once you have downloaded into the CSV format, if you still wish to open and check the document, you can do so by opening it in Notepad. It is not advised that you open it in any other application as the format for NDIS upload will be disturbed, and PRODA will not accept the file for uploading. Opening it in Notepad will retain the CSV format.
That's it! We hope this new feature saves you many hours of work each month. Claiming now is just a few clicks away!