Set up your NDIS services and NDIA-managed participants on Comm.care.
First of all, make sure you have completed these steps:
1. Create NDIS-funded Services
This is the most important step when setting up your Organisation on Comm.care, therefore, please read the full tutorial or contact the Comm.care team for support and consultancy:
Go to Organisation > Services, click Add New Service (on the top right) and select Funding Source: NDIS.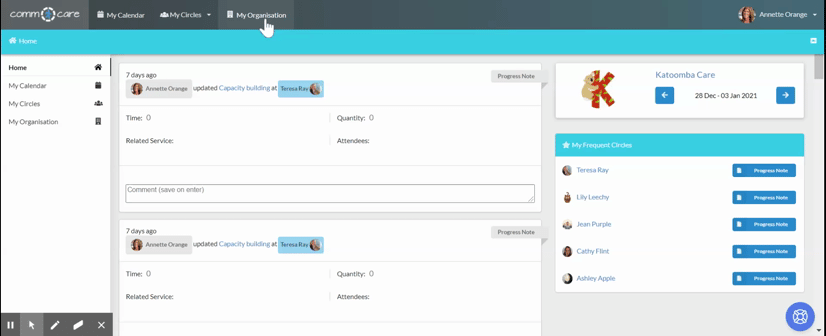 When adding NDIS Line Items, choose the Period: latest, and Comm.care will help you by automatically updating the service price whenever the NDIA releases new NDIS Price Guide rates; otherwise you can choose to manually set the price for the services you deliver.
Read the full tutorial: Update service price.
2. Create NDIS-funded Circles
A Circle of Care is the place where you will find everything related to the Participant (your Client).
Go to Organisation > Circles, click Add New Circle (on the top right), enter information about Care Recipient, Carer and Plan Manager (Refer : Add person and plan manager to a circle ).
Fill in all the information required by the NDIS: when you hover on the question mark icon, you will see whether the information is required by the NDIS or not.
Make sure you enter the email address and address of the Care Recipient, Carer or Plan Manager, if you want them to receive statements. You can always update this information on Circles > Participant.
Read the full tutorial: Creating a New Circle.
3. Add NDIS-funded Services to a Circle's Roadmap
To add a service that your Organisation provides, to a particular Circle:
Go to Circles > Roadmap, click Add New Service and select the NDIS-funded Service that you created for your Organisation.
Choose How will the supports be paid: NDIA-managed. This is important information that determines the claim process you will use.
Select Claim Recipient and Claim CC. This will allow you to send the statements via email to your Participants. If you don't see any person to select, go to Circles > Participant to Add New Person or add email to the Person (read the full tutorial here).
Read the full tutorial: Add Support Services to the Roadmap.
4. Create Appointments
On Comm.care, an appointment is an instance when a service is scheduled to be delivered to the Participant. For this reason, in order to create an appointment the Circle must first have an active service in the Roadmap - see Add Support Services to Roadmap.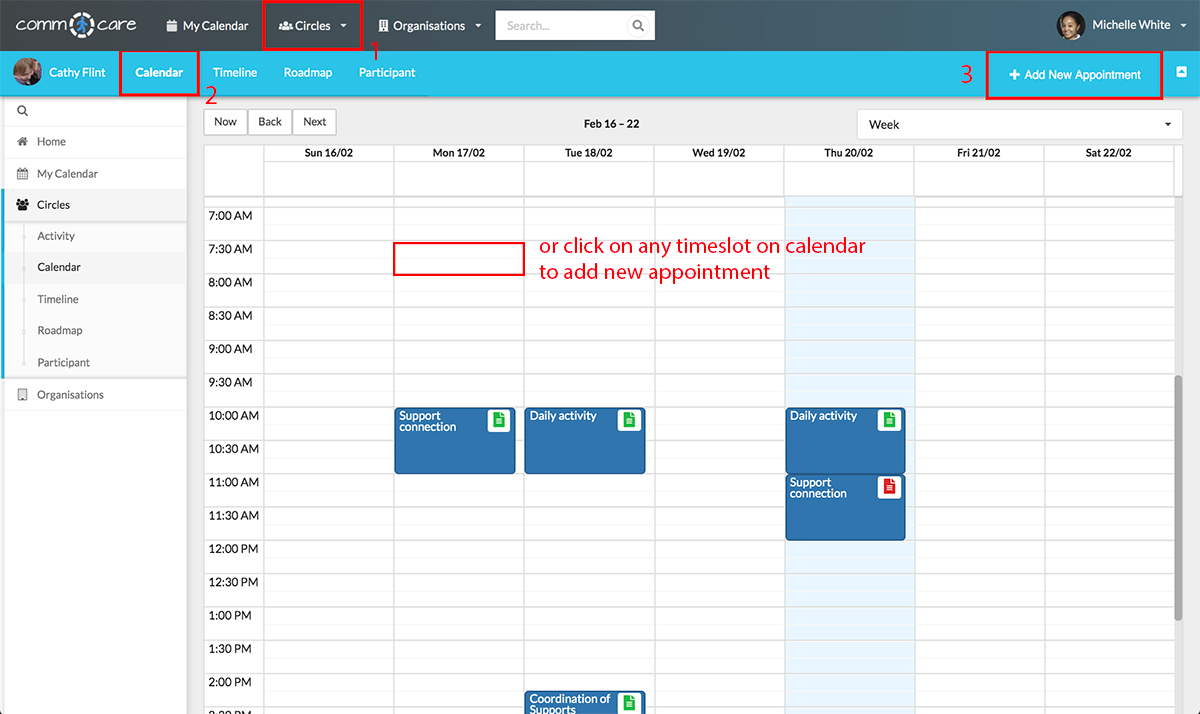 The Circle Calendar shows the Participant's appointments including yours and your peers. It is the only Calendar that allows you to create Appointments. Click on an appointment to see more detailed information about the specific appointment.
Refer: Create or Delete Appointments
5. Create Progress Notes
You'll notice that there is a red page icon in the top right corner of your appointment. This red page indicates that the appointment does not have a completed Progress Note as yet. Appointments that do have a completed Progress Note will have a green flag icon instead. See how to create Progress Notes
Before claiming: make sure all the support delivery is documented
Progress Notes are legal documentation required by the NDIA in order to get paid. It is very important to ensure your staff creates a Progress Note after each appointment, for each Circle. As a Manager, for example, Comm.care allows you to quickly check that this has occurred by following this process:
Step 1. Go to Organisation > Calendar
All the appointments of the employees are listed. You should choose Agenda view to see more detailed information. You can use the Now, Back, Next buttons to navigate between dates.
Step 2. Filter Appointments without Progress Notes
On the filter on the right, select the slider Without Progress Notes. Now all the undocumented support delivery with the red note icon is listed. It also allows you to filter appointments by Staff or by Circles.
Step 3. Create Progress Note
You can click on the red note icon to quickly create a Progress Note, or click on the Appointment title to see more detail or edit information and ask staff to complete the Progress Note. See more about how to create progress notes.
Refer: About Organisation Calendar
You are now ready to claim your hours to NDIS. Have a look at Claim process for NDIS NDIA- Managed Clients in Comm.care.
If youre new to Comm.care and keen to see the full Platform in action, join us for a free demonstration. You can book a convenient time HERE. Looking forward to meeting you then!