To utilise Comm.care as an effective client and case management platform, the initial thing would be to set up your clients.This article talks about how to create a new circle (client profile) in Comm.care.
Start with your Organisation by clicking on My Organisation > Circles > Add New Circle on the top right. This will bring up the Add New Circle workflow. This workflow will take you step-by-step through the process of creating a Circle.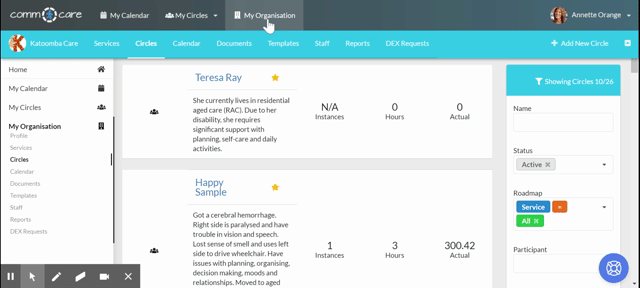 Complete Circle's Details
You'll have to fill out some information for the circle you are creating, (at each step, you should select Save and Continue).
1 - Basic Info:
a - Info about the Circle:
Name: the name the Client is recognised by, usually this is the Client's name (this can also be a nickname if it's easier to remember).
Snapshot: A brief summary of the Client. Sometimes it's helpful to include information that provides a good introduction to the Client.
Image: Now would be the best time to upload a photo for this Circle. We believe that the best way to identify people is by their face. This is why we encourage you to upload a photo to the Circle's profile. If you don't want to upload a person's photo, you can upload any other image that represents that person.
b - Info about the Participant:
The most important step is to add the Participant to a Circle to store the Person's information. The Person can be a Care Recipient (CR), Carer, or Plan Manager. Note that you can only create invoices and statements when there is at least one Care Recipient in that Circle, so it is best to fill in the Care Recipient information first. Other Person or Informal User (such as Guardian) can be added later.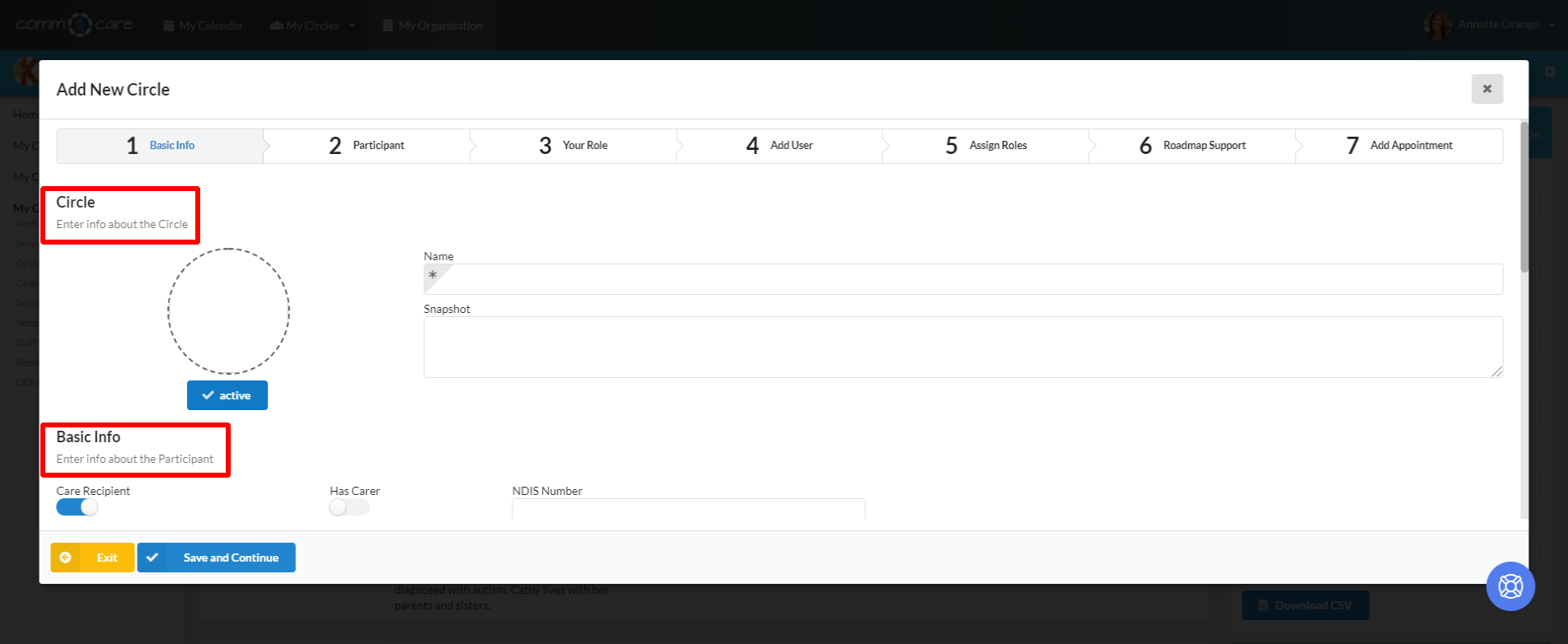 First, you have to select whether the Participant is a Care Recipient, Plan Manager or Carer. Based on this option, there will be different fields to fill in:
Care Recipient (CR): NDIS number (if NDIS participant), Gender, Date of Birth, whether CR has a Carer.
Carer (CA): Relationship to Client, Gender.
Plan Manager: Institution name
How about DSS client?: There is no option to mark the client as a DSS client at this stage. You just have to fill in all the information required by DSS (by hovering on the question mark icon to see if the information is required by DSS). After that, when you add DSS funded service to Circle's Roadmap at step 6, Comm.care will automatically show fields necessary to create a DSS Case.
Here is the general information for the Person:
Person's Title, Given Name, Surname: this information is required.
The Person's email(s): is required if you want to send statements or invoices.
Person's telephone number(s): this will be shown on statements/invoices.
The Person's address(es): this will be shown on statements/invoices.
Please note you can add multiple emails, telephone numbers (mobile and landline, for example), and addresses (work and home, for example).
2 - Information about the Participant:
This section will allow you to add supplementary information about your Client, such as whether their date of birth is estimated or if they are CHSP funded. You can add consent to provide details to DSS; if the Client is NDIS registered you can add their NDIS number for reporting purposes, etc. Please note, if your Client is funded there are a number of fields within this section that are important for reporting. After completing the Participant's information, you can click Save and Add Another if you want to add more Participants, or click Save and Continue to move to the next step.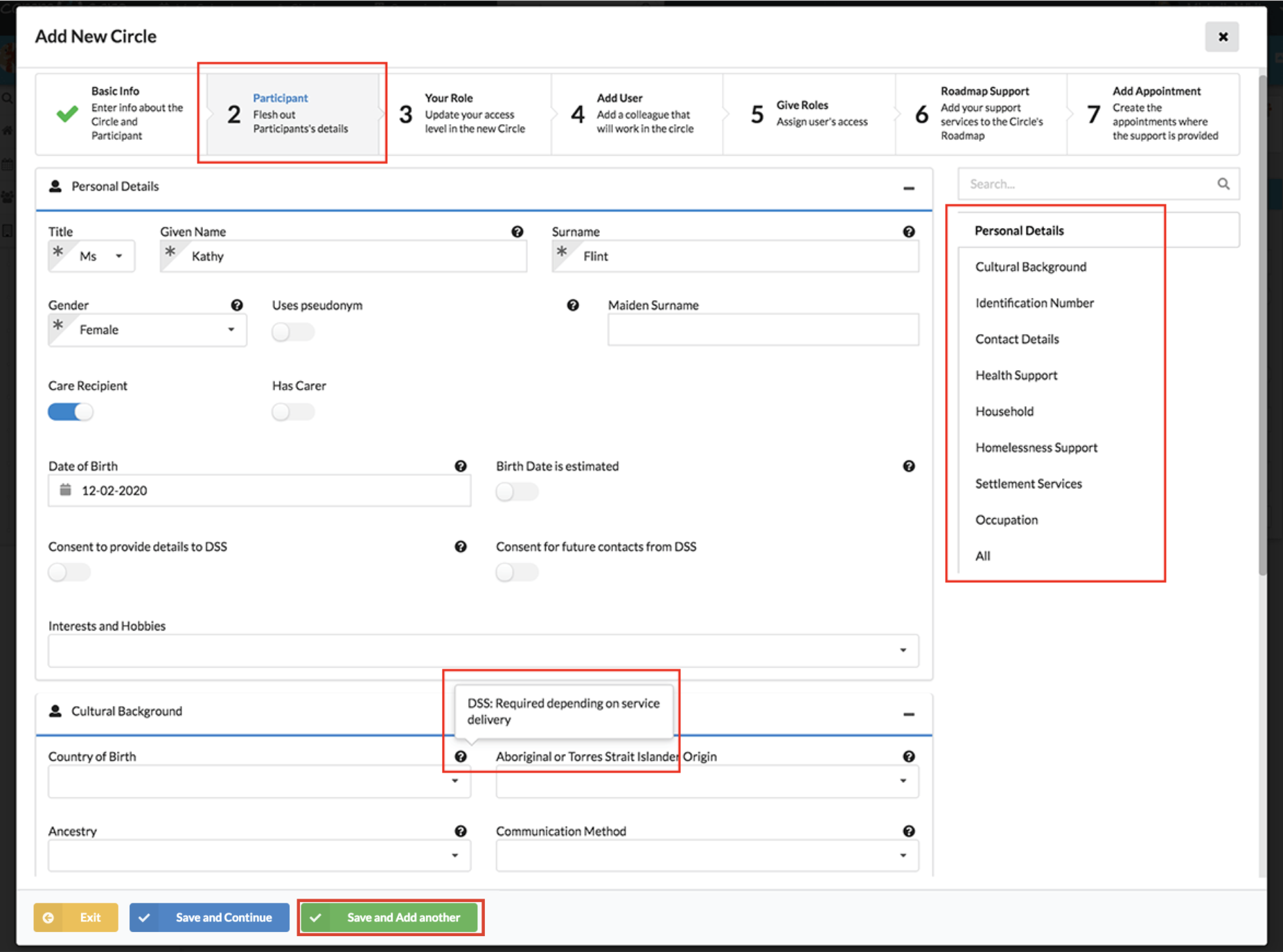 3 - Your Role:
Your role in the Circle. You will notice when you get here that there is an explanation of each type of role. Select the one that is most relevant to how you will work with this Client.
4 - Add User:
Add colleagues that will work with you in the Circle. You can do this by name or email address. You will need to click the Add User button to continue to delegate roles. You can visit Create Users to find more information about this.
5 - Give Roles:
Assign specific levels of access for your peers within the Circle. For more explanation of the types of roles, please visit Circle's roles. You can click Save and Add Another to repeat step 4 & 5 to add more staff and give roles to the current Circle, or click Save and Continue to move to the next step.
6 - Roadmap Support:
Add your support services to the Circle's Roadmap. You will need to select the Related Service from the dropdown, as well as State (you can choose from Plan, Active, or Inactive), amongst a few other fields. For a full explanation of the Roadmap of support, please see Add Support Services to Roadmap.
7 - Add Appointment:
Create appointments where support is provided. For more information about creating appointments, please see Create or Delete Appointments. You can click Save and Add Anotherto repeat steps 6 & 7 to add to the Roadmap or appointments in the current Circle, or click Save to complete.
You're all done! Congratulations on completing the setup of your first Circle of Care.