Comm.care as an NDIS software, helps to manage your organisation users and their level of access to Client information, in a single place. This article will explain how to create users in Comm.care i.e. create a staff profile and manage their access across the Client database.
To create a new user, go to My Organisation >Staff >  Create New Colleague in the top right to bring up the 'Add New Member' wizard.
Search for a registered user. Enter the staff email address and click on Find to check if the user is already registered in Comm.care. If no user registered to that email address, click on Create a New User.
If there is a user registered with that email address, just click on the Add User button and go to the next step.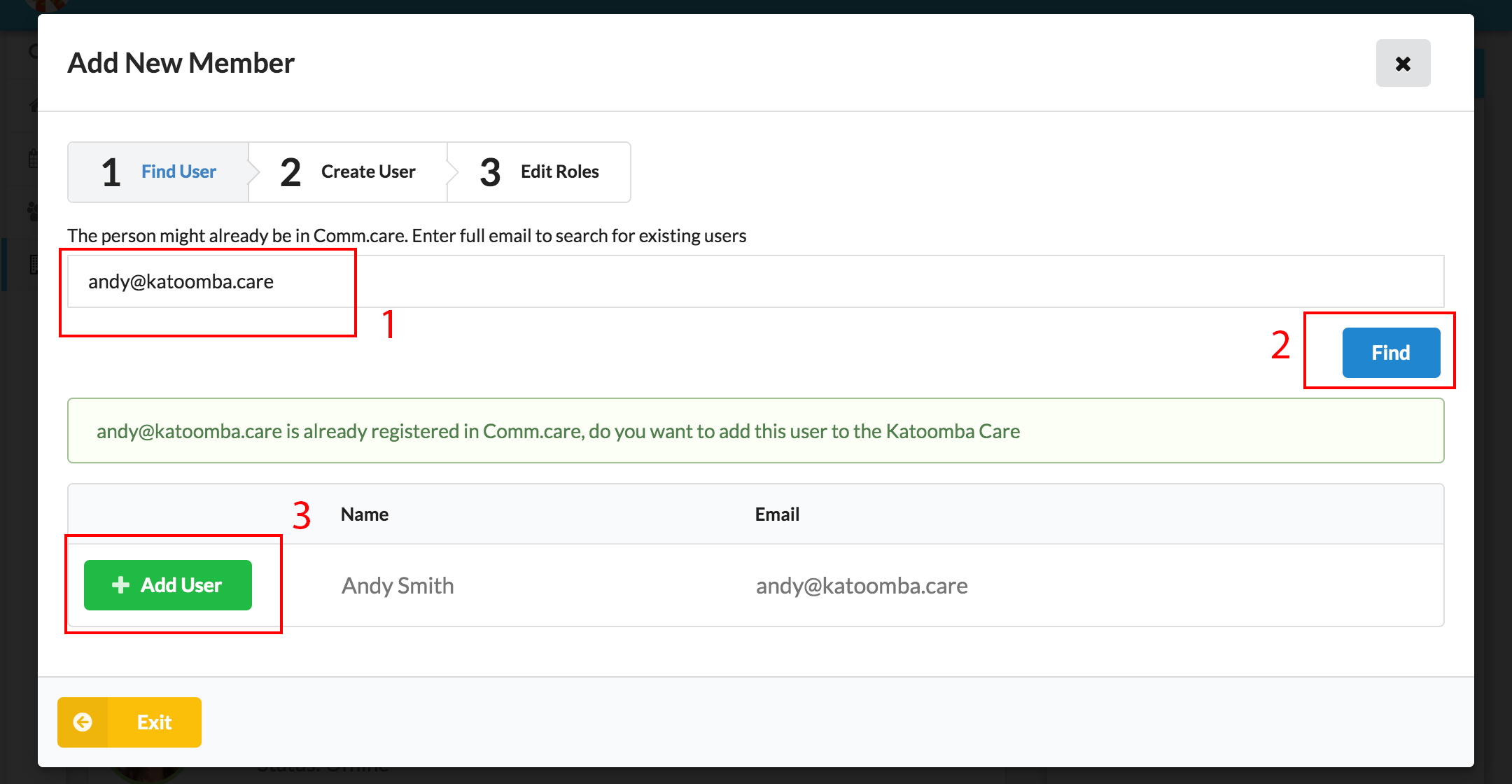 You should add relevant information to the user's profile, such as skills or languages spoken. Comm.care will allow you to search by these types of variables within your staff and volunteers based on the information you enter in their profile.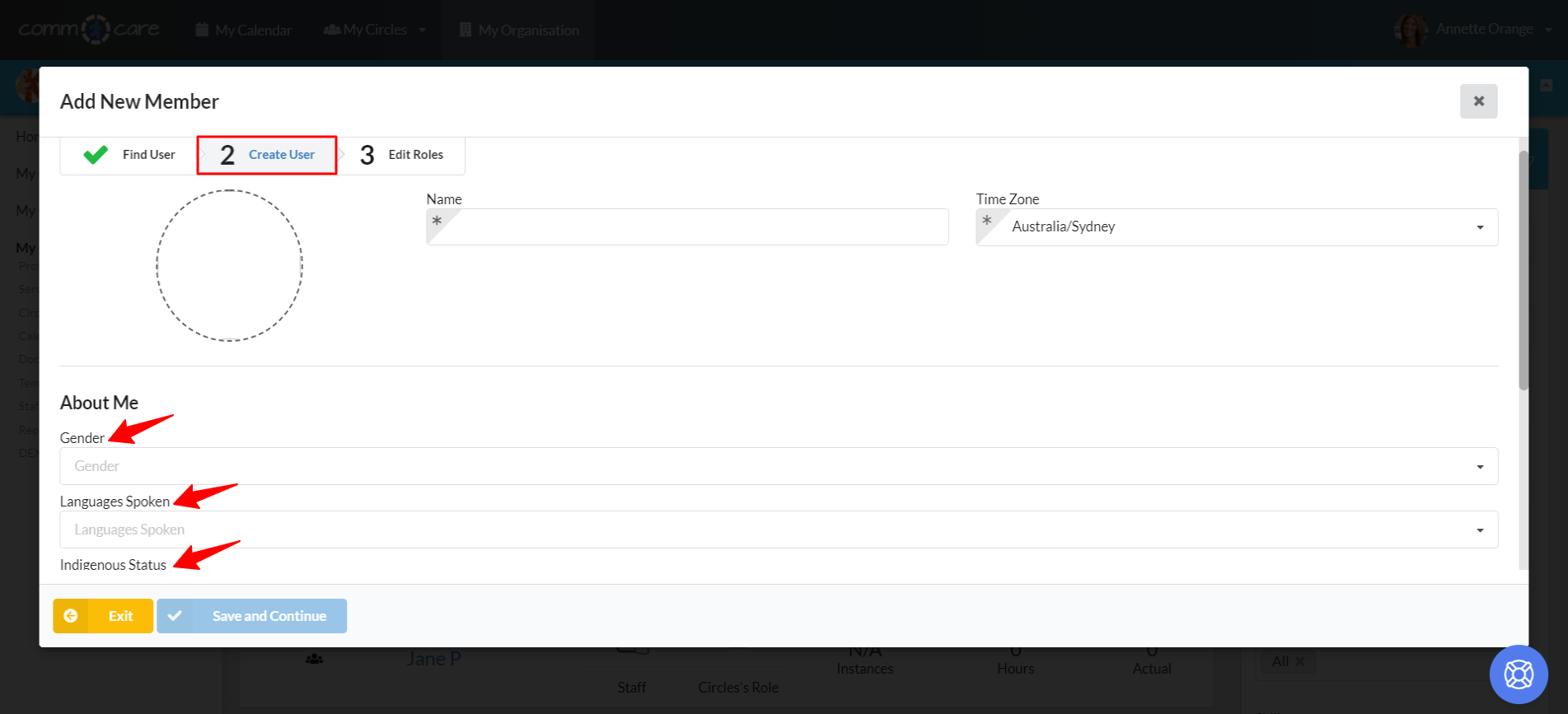 The best way to identify people is by their face. We encourage you to upload a photo to identify the Circles better. You can quickly upload a photo by dragging a new one into the Circle.
Interests are perfect to better manage and align staff & volunteers with your Client's interests and hobbies. You can use tags like:
Sports
Photography
Hiking
Each entry has to be separated by commas ,
Use Skills to enter skills and expertise like:
Behaviour Support Expert
Psychosocial Recovery Coaching
5+ years experience with Support Work
Keeping a record of all your staff certifications is an important part of maintaining compliance and qualification standards in your organisation. It also assists you to match them with the needs of your client. You can upload, view and manage staff certifications in the Cerifications field. You can enter certifications along with their expiration dates like:
NDIS Worker Orientation Module
First Aid Certificate
Disability Work Cert. 3
Health Services Cert. 3
Working with Children Check

Once you have recorded the skills, certifications and other details of all your staff, you will be able to filter them by their expertise, skills, language and certificate details (that you have entered) through the smart filters to match it with your client's requirements.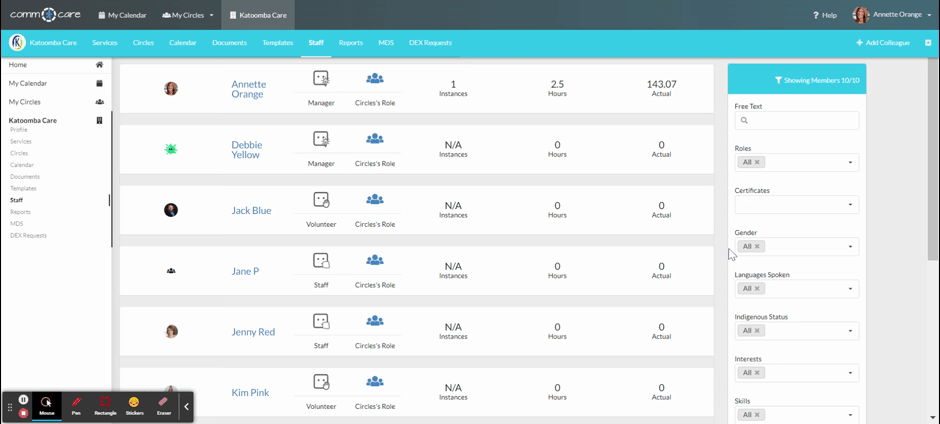 So, when a new client arrives, you simply need to fetch out the staff with correct skills and certfications and give them access to the Circle of Care.
Note:
Telephone numbers are only shown to users with a Manager role, for privacy.
Your staff will have access to view and edit their own certificates and documents with the expiry date on their profile. This way they will be able to keep their documents up-to-date.
Community Visitor Scheme (CVS)

The CVS Program Coordinator will match a volunteer with a resident of an aged care facility based on interests, hobbies, background and life experiences. You will more than likely need to manage a large number of staff if your organisation is part of Community Visitors Scheme (CVS) under the Australian Government subsidised aged care services.
Once the user has been created, click on the Edit user role and give him or her an appropriate role within the Organisation. Check out our document on Organisation Roles in Comm.care.
Congratulations! You have created your first user. Now you can add all the other user accounts for your staff and volunteers.