Comm.care can help you maintain a centralised client record allowing multiple funding sources like NDIS, HCP, DSS, MDS and many more across the participants for your organisation.
The service description in your profile is seen by other organisations and is how your Organisation introduces itself to others who are using Comm.care. This information is also used for reporting purposes.
To go to your Organisation section, you can look at the top menu and click on
My Organisation > Click on your organisation name (on the right)


From your Organisation section, you can see the logo and a brief description of your Organisation on the right. Click on it to open detailed information and edit your Organisation. Click on the blue Edit button to edit the profile. You should complete all the fields. Only the information in the Basic Information section is made public to other organisations and users. You can also choose to hide from the public listing if you want to.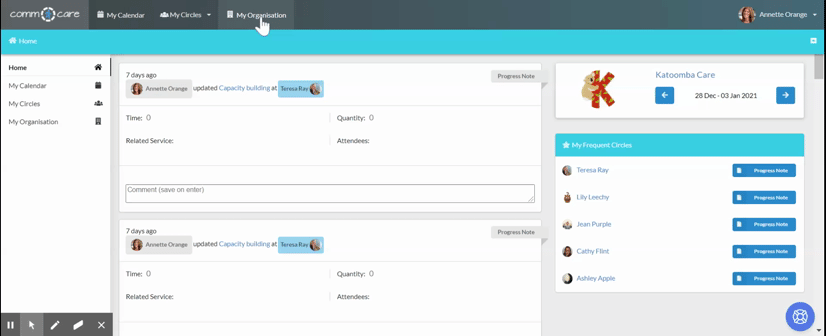 Another way to access this information is from the Home Screen, where you can see yourOrganisation on the right. Just click on your Organisation name to open it.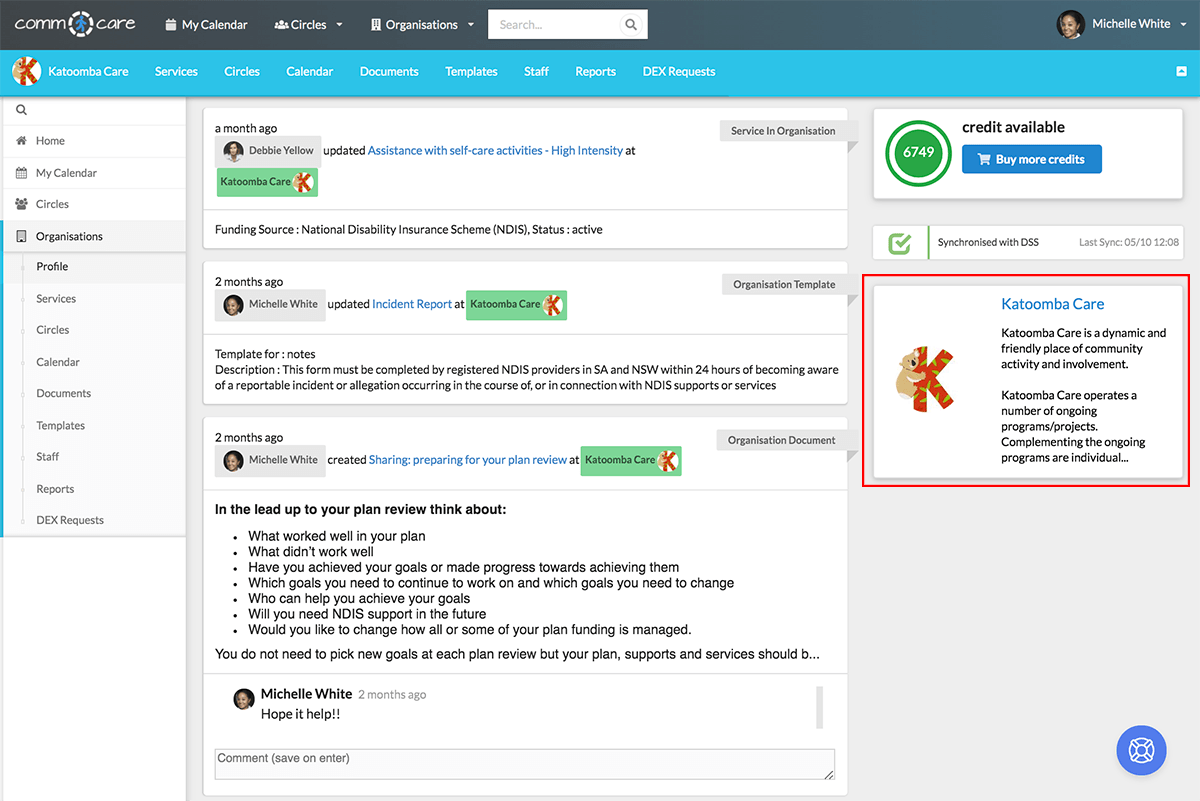 Basic Information
Organisation Name: Your Organisation name
Organisation Logo: Your Organisation logo is used everywhere in Comm.care, uploading it gives a professional look to your Organisation.
About Us: Enter a paragraph or two in the About Us section - members of other Organisations will be able to see your profile, so make it good!
Address Type: You can add multiple addresses for the Organisation and name them to differentiate them (Eg, Head office and Branch office)
Address: Comm.care uses Google Maps to better locate the address. Just type the address and select from the suggestion.
Telephone: You can add multiple telephone numbers.
Contact: You can add all the contact info, from Email, Facebook, Twitter to Website, ... to let people know how to get in touch with you.
Hide from Public listing: By default, your Organisation will be listed under the page app.comm.care/organisations. If you wish to hide your information, just turn this option on.
Funding Source
You can select one or multiple funding sources. Depending on your selection, there will be more information for you to fill in.
For funding sources such as MDS, Client Fee for Service, Queensland Network of Alcohol and Other Drug Agencies, and *Other,*there is no need for additional information, you're ready to go!
For NDIS, DSS and HCP funded organisations:
National Disability Insurance Scheme (NDIS): enter your NDIS registration number or Temporary Transformation Payment (TTP) Compliant and select your Registration Groups
Note: To find your Organisation's registration number, go to NDIS portal> Your organisation profile
Home Care Packages (HCP): select your Common Services.
Department of Social Services (DSS): Enter the DSS Username and DSS Password that was provided to you by the Department when the application for your system account was approved, then click on the Synchronise button and wait for Comm.care to initialise integration with DEX.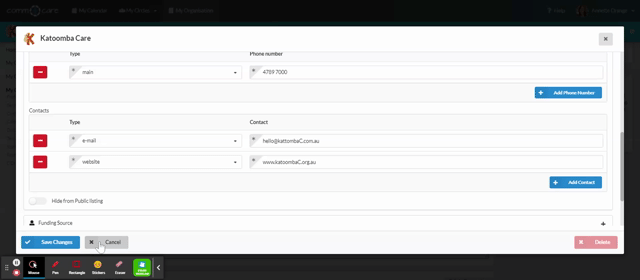 DSS Funded Organisations

Comm.care connects with the DEX (DSS Data Exchange Portal) to generate compliant, automatic DEX reports. This keeps your funding pipeline open, freeing up time to focus on caring for your clients. No other system offers this level of system-to-system integration, so prepare to be blown away! Whenever you wish to do a complete synchronisation with the Department, just click on the Synchronise button again and wait while Comm.care retrieves all your DSS information for you. Note the rectangular box on the right of your Organisation's section will signal if you are synchronised with DEX. Read more about how Comm.care will help you automatically report to CHSP Data Exchange here.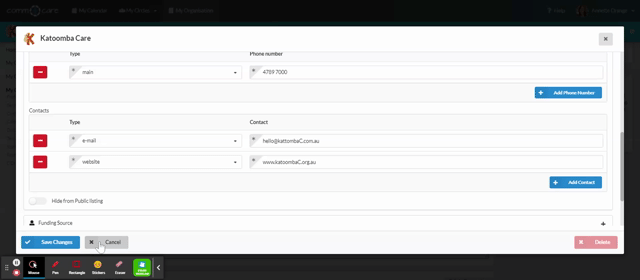 Back Office
For organisations with funding sources more than MDS, this is where you set up Timezone, Accounting integration with Xero or MYOB, Billing Information, Postal Address and Bank Details. This information will be shown on your Organisation statements and invoices or can be used to create organisation's templates.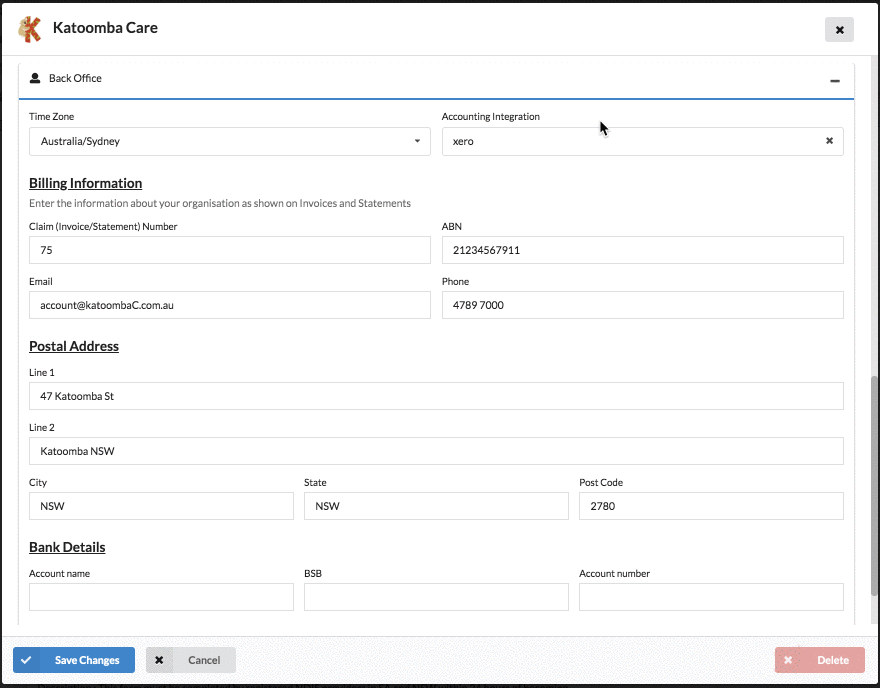 Comm.care Account
From here, you can change the account owner or can change the Comm.care plan.
Note: Only the account owner will be able to do that.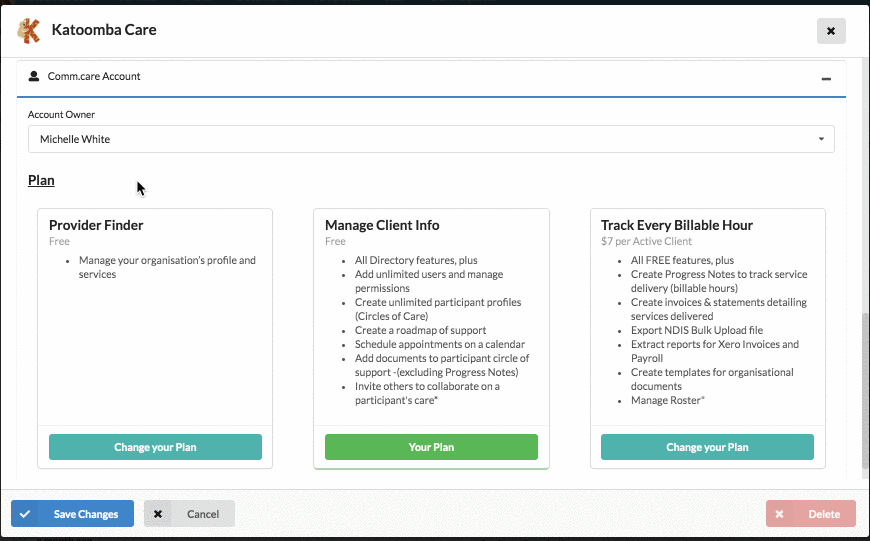 That's it! You have now set u your organisation with multiple funding sources and now ready to set up your services. Check outAdd MDS/HACC services to My Organisation tutorial for further steps.