My Calendar provides a colour-coded overview of all the scheduled appointments of the staff that log-in, in either Day, Week, Agenda, or Month view. Once a staff member is assigned to an appointment, they can view a personalised roster in My Calendar.
As an organisational user, you can view all your personalised appointments or your personal roster on this tab. Here, you can view your appointments based on the Circles and the hours you have been assigned for each Circle.
With a single click, you can view all the appointments where Progress Notes haven't been created and you can update these, which will eventually update your staff hours.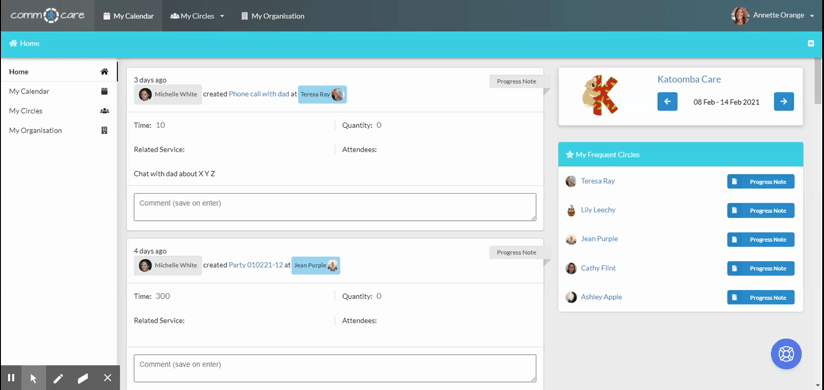 The drop-down at the top allows you to view appointments in Day, Week, Month, and Agenda view.
The sidebar allows you to filter the appointments by Circles and Progress Notes.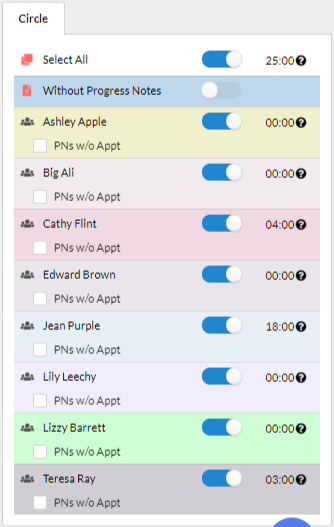 Select All: This showsyou all the appointments across Circles you are assigned to.
Without Progress Notes: This allows you to filter out all the appointments whose Progress Notes haven't been created (all the little red pages).
Circle: There is a list of all the Circles you are assigned to just at the bottom and each has the tick-box of PNs without Appointment. It shows you all the ad-hoc Progress Notes. i.e. Progress Potes created without appointments.
The numbers (e.g.04:00) on the right of each filter indicate the total hours of the filter chosen.
Note: All the ad-hoc Progress Notes (i.e. PNs without appointments) will be shown in bold green colour in the calendar. All the appointments will be shown color-coded as per the filters on the right. Eash colour is assigned to each circle. All the tasks will be in a hollow structure shown without any PNs (Progress Notes) attached
See how to see tasks and tick them off when done here.
These new filters will help you to keep track of everything related to your appointments and tasks, in a personalised view for each User. This saves a lot of time, not having to send rosters or task list to each individual User.