This article explains how to export service claims (invoices) from Comm.care to MYOB.
Comm.care, as a client management software, helps in account reconciliation of the services that you have provided to your Clients.
Comm.care provides invoices for the services below, for export to your accounting system:
NDIS Self Managed
NDIS Plan Managed
Client fee for Services
Let's have a look at exporting either Self Managed or Plan Managed claims to MYOB.
In order to import invoice to MYOB you have to first select MYOB as your Accounting Integration from Organisation Profile, then enter the MYOB Item number on each of your Organisation's services, See more detail here and to your Circle's profile.
Remember, first create the invoices and send them out to Participants and Plan Managers before you start with accounting. Until you have sent out the invoices, there is no point attempting account reconciliation for those services. See the details here.
Once you've sent out the invoices, go to My Organisation > Report.

You should filter Select Roadmap Type to **Self Managed or Plan Manager. -**Remember to enter Payment classifications on the Circle's Roadmap. Learn more about the Roadmap of Support.
Select Filter Progress Notes by Purpose: 3.3 Export Claims
Select the Occurrence date for the duration you want to export claims.
Click Generate report to load report page in a tabular form where you can have a 'single view' of all the NDIS Invoices that will be exported to MYOB.
Click on Action (below Generate report) > Export as accounting file. It will download a CSV file for you to upload to MYOB.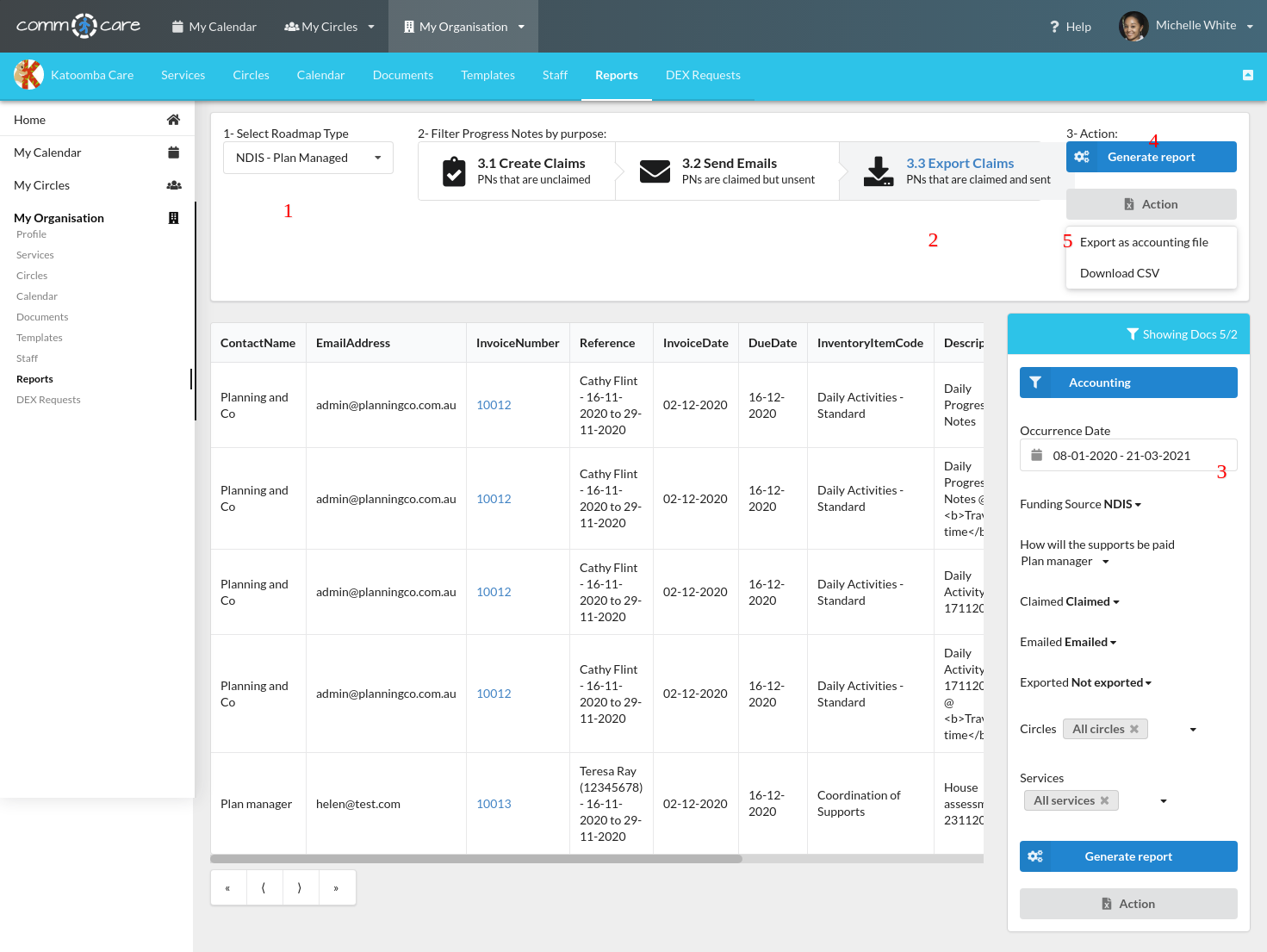 Once you have downloaded the accounting file (MYOB CSV file), the next step would be importing in MYOB.
Login into your MYOB and Select what you want to do > Select Import data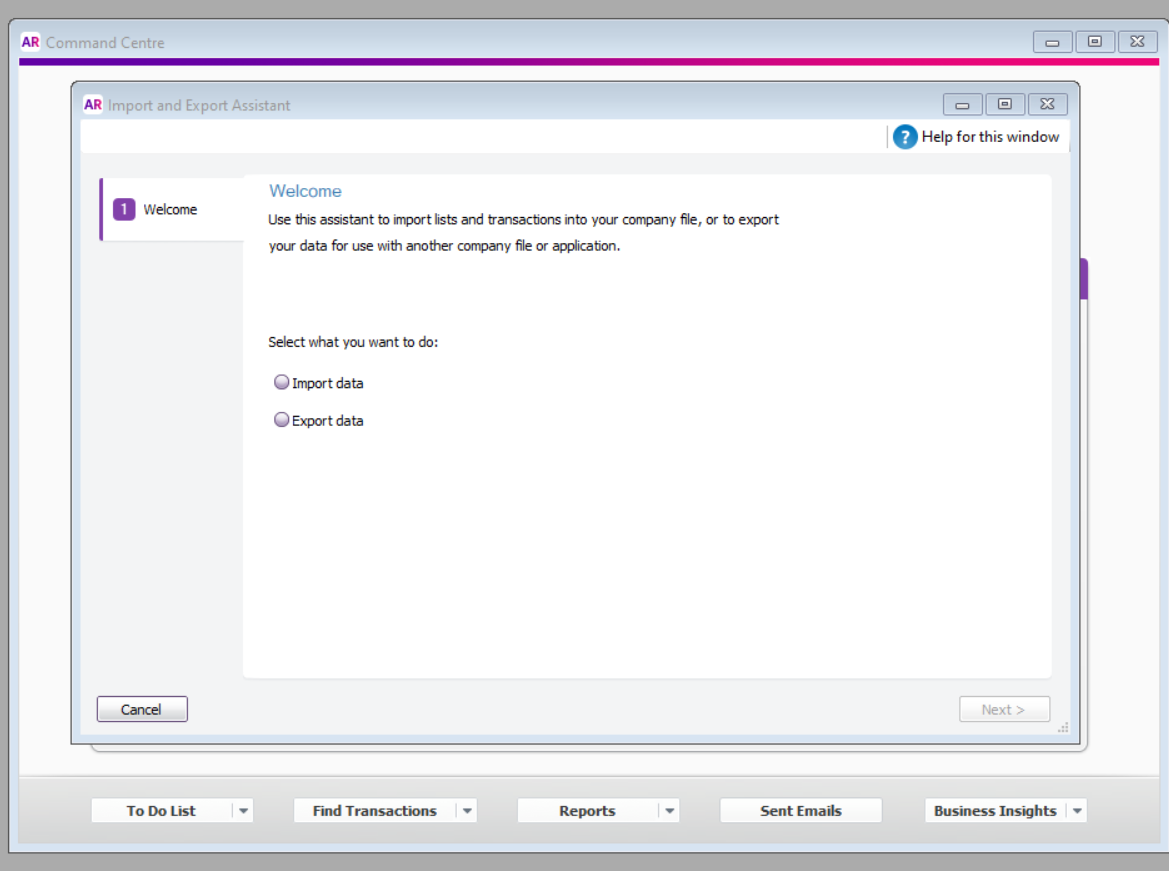 After clicking Next> Tab 2 will open
Tab 2: Select Import: Sales & Sales type: Item Sales from the drop-down
Select the file that you downloaded by using the Browse tab > Click Next>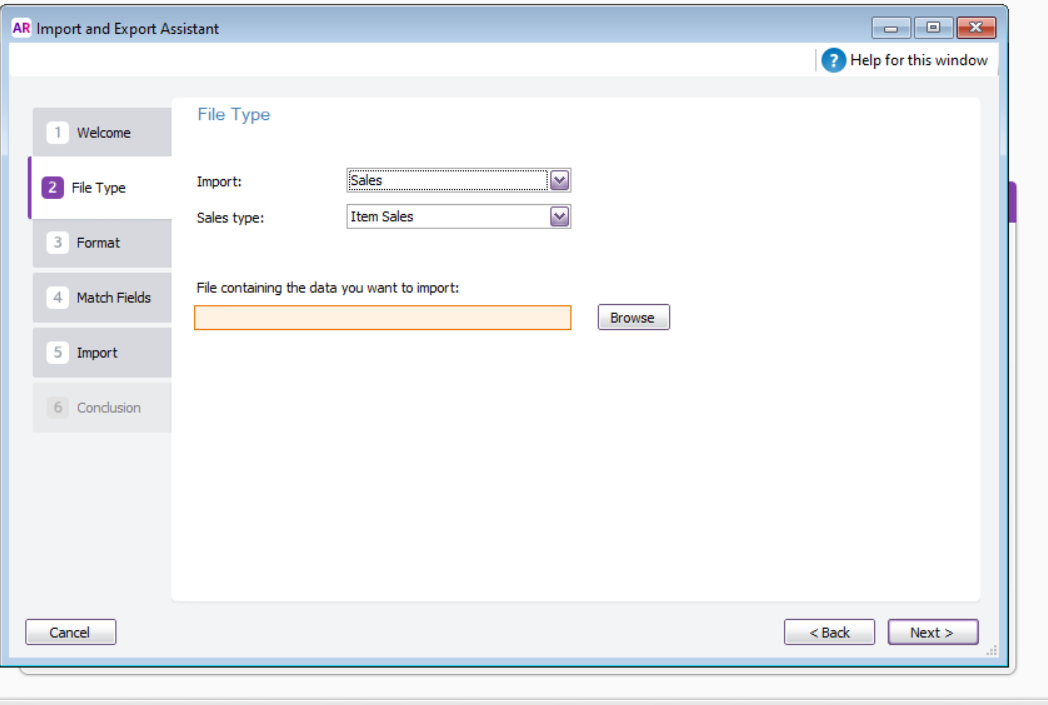 Tab 3:
\* Select Data separated by: Tabs
\* The first line of the file contains: Headers or Labels
\* If data you are importing already exists in this company file: Add the import data (from the drop-down menu)
\* Match cards using their: select from the drop down "Card Id" or "Co./Last Name"
\* Click Next>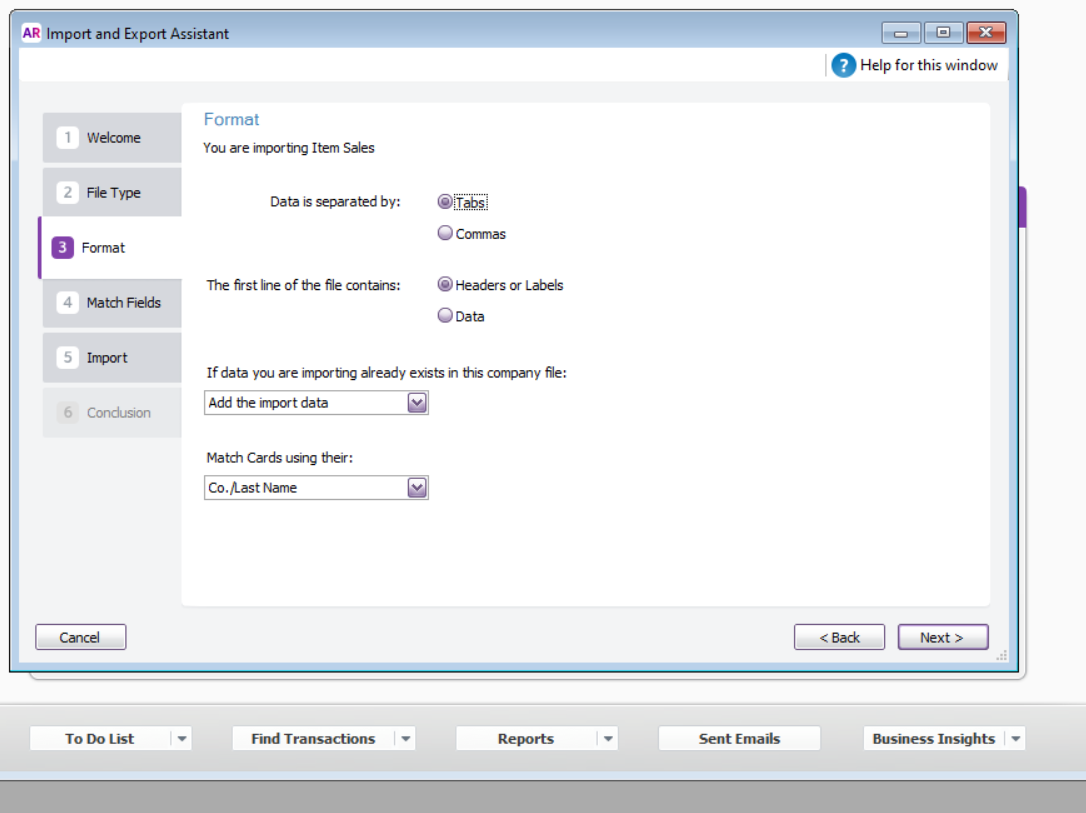 Tab 4:
As the downloaded file is already in the MYOB CSV format, you just need to select Automatch here and the fields will be matched with the available fields. Once done, click Next>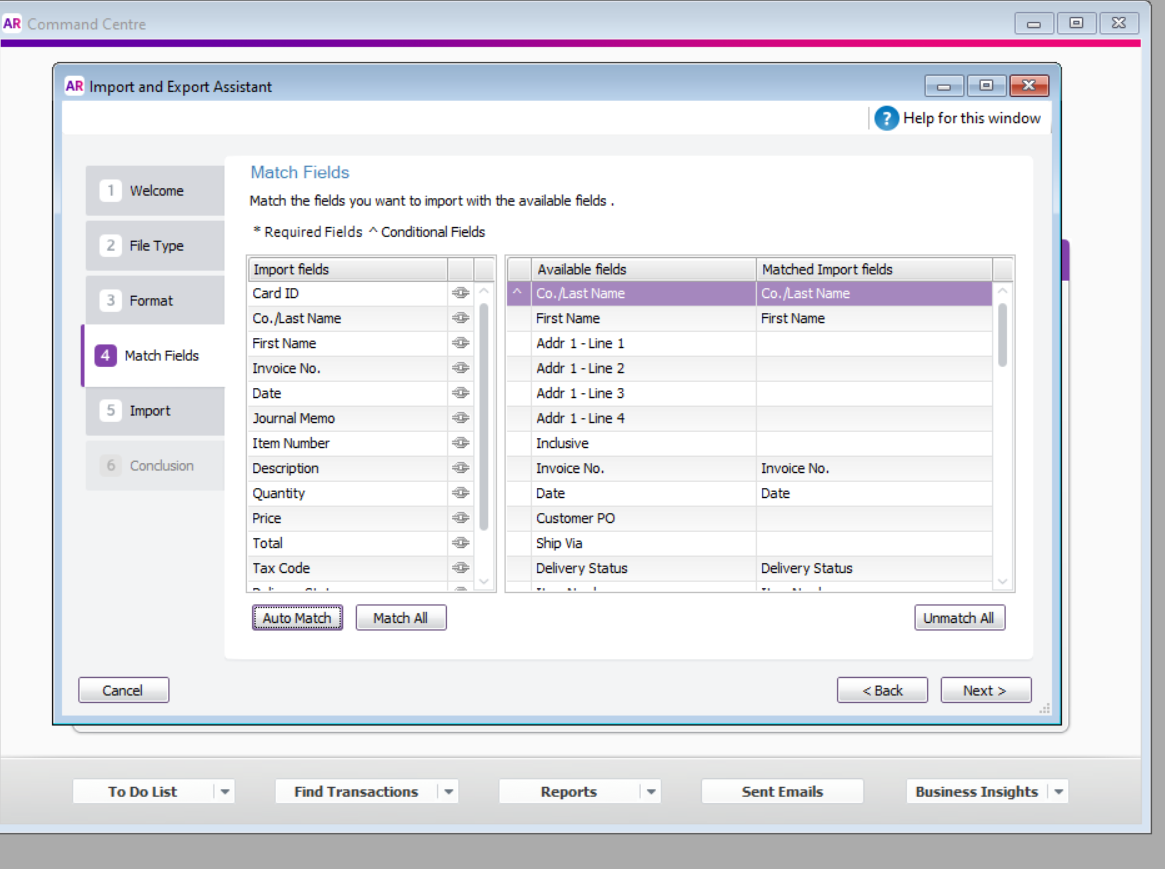 Tab 5:
If you want to back up the file, this is the stage where you can do it by clicking the Backup button. Click Next>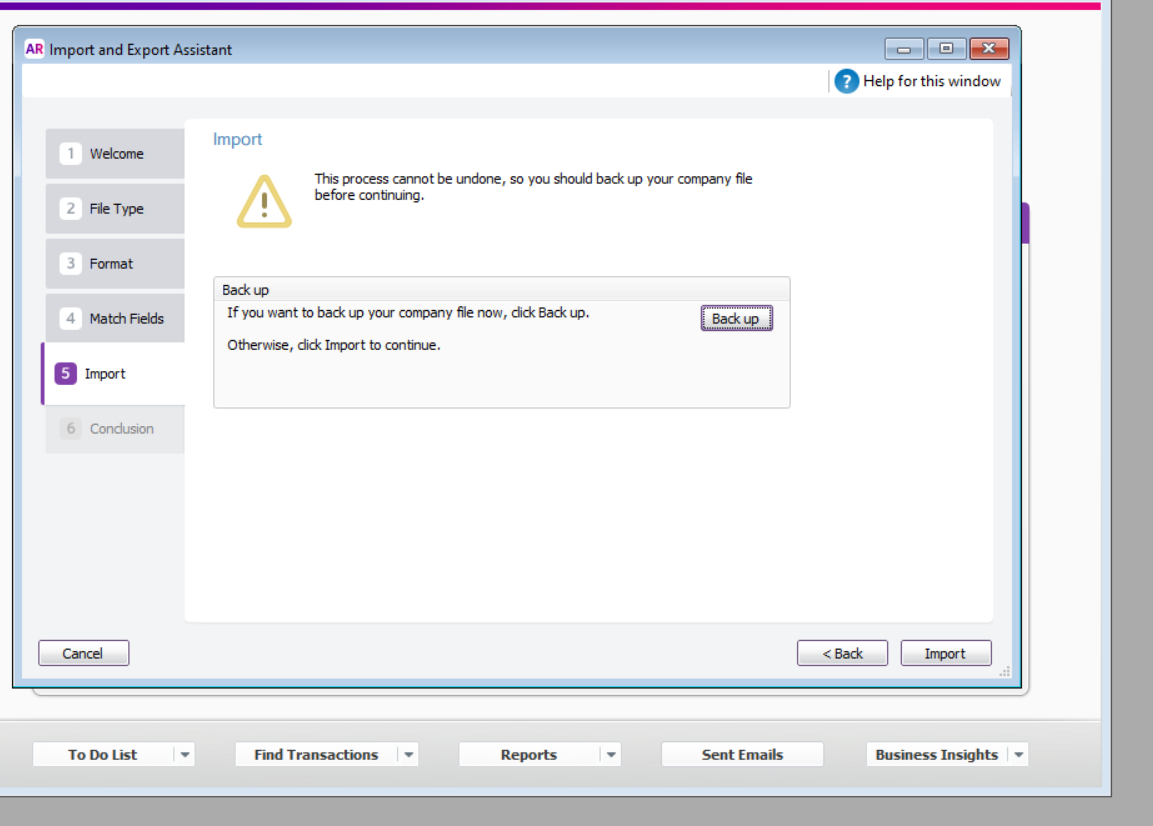 Tab 6:
After you have imported the files, you can have a look at all the imported records and one's that were skipped due to errors. Once you rectify those errors, the best approach for you is to fix the specific file and import it again and also address the root cause of the problem, for example, fix the 'MYOB Card Id' on Comm.care to match the Card Id from MYOB and then import just those files again.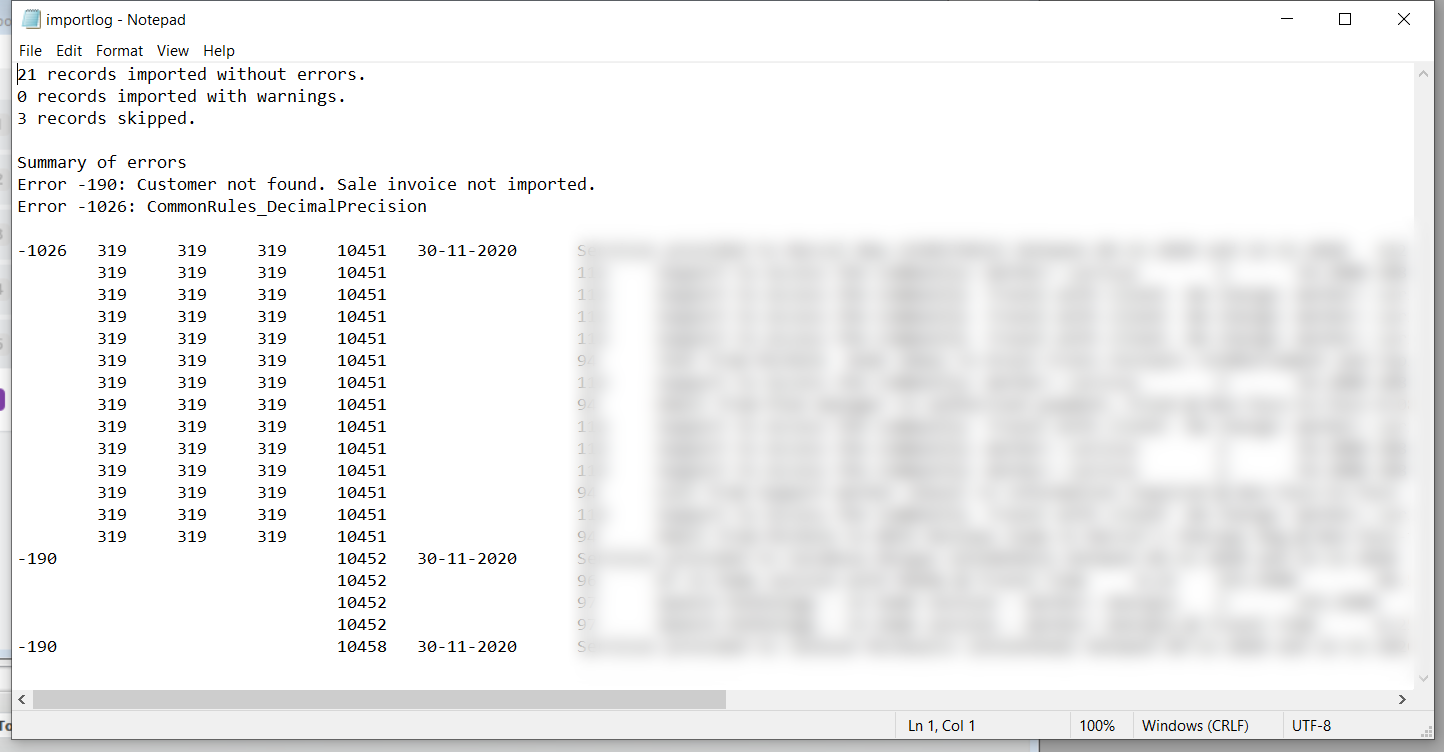 It's that simple! Similarly, you can follow the above process for client fee for services.
In this way, Comm.care helps you to efficiently export data to your accounting system.