In Comm.care, an appointment is an instance when a service is scheduled to be delivered to the person/group. In order to create a group appointment, you have to set up the Group Service for all your participant roadmaps. You can then create a 'Group Appointment'.
Now because you will be creating one single appointment for an entire group, you will not be able to create appointments from Circle's calendar. So to book an appointment, go to:
My Organisation> Calendar>Add Group Appointment (at the top right)> Choose the service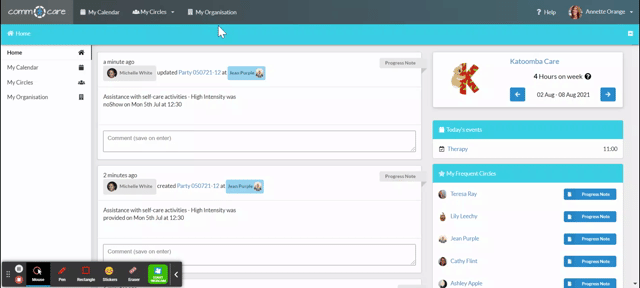 Complete the new appointment form.
Title: Name the appointment. A good option is to call it something meaningful like Lego.

Date: Choose the data and time of the appointment for the group.

Circles: It will be auto-populated based on the circle's roadmap. So if the 'Lego' service is in the circle's roadmap, the circle will be auto-populated in the group appointment for 'Lego'. You can remove any participants if they are no longer a part, but make sure you have got the correct 'Apportioned Pricing'.

Support Item: We created the support items based on apportioned pricing in the tutorial Add Group Services to My Organisation. To add those line items in the appointment, choose the +Add Support item and select from the drop-down list. Match it with the correct claim type (Direct service or Non-face-to-face).


As per the above example;

Direct support (F2F)= For the Lego service provided

Preparation (NF2F)= For preparation time of Group service

Centre Capital Cost= Capital cost for the duration of the location where service is conducted

Activity-Based Transport= To charge travel for transporting participants to and from the activity which is based on kilometres (km). It is a good practice to charge as per set kilometres across all the participants to make it easy for you to claim. To know more on how to charge transport using multiple lines, see: Charging Transport in NDIS
Set up a Recurring appointment
Click on option Repetitive to select the type of repetition: Hourly, Daily, Weekdays, Weekly, Monthly. Each type has different options, which are designed to help you quickly automate the process. You can also set an end date for the recurring appointment. For example, You have set a Program of Supports for 12 sessions of Lego every Tuesday for 12 weeks from 2:00 to 6:00 p.m.
So here, I'll choose repetitive and select weekly> Tuesday
End> After > 12 occurrences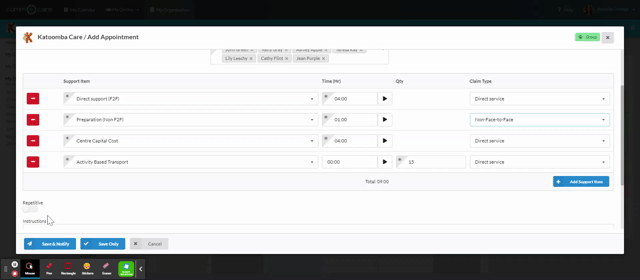 Now choose the attendees from the list that is going to provide the services.
Note: Only the mutual attendees will be listed in a group appointment to restrict access to private information of any circle.
Once done, don't forget to save changes. Comm.care gives you two options while doing that:
Save Only: To save the appointment created but do not notify the staff
Save & Notify: To save the appointment and notify the staff about it.
Choose the best option for you and congratulations! You have created your first group appointment. Now you can add all the other appointments related to the other group services.
Click on an appointment to see more information about the specific appointment.
You'll notice that there is a red page next to your appointment. This red page means that the Progress Note for that appointment has not yet been completed. Appointments that do have completed Progress Notes will have a green flag instead. See how to create Group Progress Notes.